Isha Foundation, Coimbatore
Introduction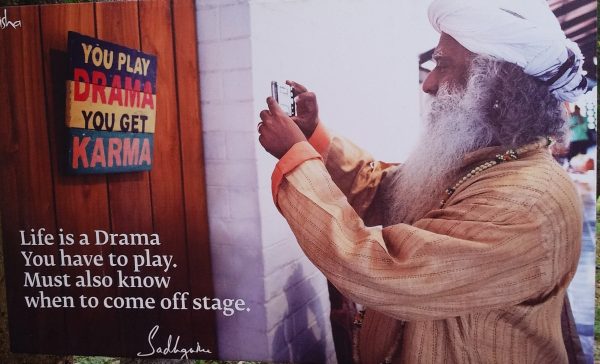 Isha Foundation is a non-profit and spiritual organization was founded by Sadhguru Jaggi Vasudev in 1992. It has over 200 branches and Ashrams all over the world.
The Isha Foundation offers a number of programs and is well known for its brand of Yoga that goes by the name "Isha Yoga".
For more information on all programs schedules visit THIS SITE
The information covered here is generally pertaining to the Isha Yoga Center, Velliangiri hills, near Coimbatore, India. The details are given in their website.
This write up is essentially a guide for the first time visitors so that they can plan and casual day visit or attend the special sessions and programs (4 to 10 days) that are conducted at the centre from time to time.
Location
The Isha Yoga Centre is set in the foothills of Velliangiri Mountains, amidst a very scenic surroundings which has pristine hills with thick virgin forest and abundant wildlife. It is said that the coordinates of this location we selected personally by Sadguru Jaggi based on strong earthly vibrations that makes it an ideal place for practising yoga for attaining inner transformation.
The location of Isha Foundation Coimbatore on Google maps is given HERE
The Isha Yoga Centre is located about 40 km away from Coimbatore airport in the vellingiri hills and would take about 1 hour 20 minutes by taxi to reach. The rate of taxies vary as per the time of the day and is generally around RS 1200/-
For those travelling by train or buses it is about 30 kilometres from the railway station and the bus stand and takes almost an hour to reach. The buses cost a sum of Rs 40/- per head and have a good frequency. The timings of buses are given above.
Weather
The weather is perfect all through the year but it is very convenient during the months from October to March when it is very pleasant.
Booking
in case you want to book an accommodation, you can see the status and availability on the Isha Foundation webite.
At times, the status given on the website may not be updated by about a day or so and therefore you should call up Isha Centre at Phone – +91-422 251 5345 and check out the availability. Only after your query has been confirmed, you should write a mail to them and you will get an accommodation form which you can fill and send back by email. Payment is made later when you arrive.
The accommodation is AC and Non AC and is highly subsidised and the meals (twice a day) are included. The rates are given at the website mentioned above.
Note : The priority for accommodation is giving first to those who are attending some special program and only after what is left over it is allotted to the regular visitors for a duration not exceeding 5 days. This is a reason you will find almost no vacancy when you check availability online.
Planning a visit/stay
Adiyogi Statue
The Naga Hall
The Dhyanalinga temple complex
The Surya kund and chandrakund
The Bhavani temple
Map of Isha Yoga Centre, Isha foundation, Coimbatore
Daily free meditation and 30 min yoga classes are also held in the two Sadhana Halls in the Dhyanalinga temple complex.
Arrival and Reception
There are two receptions. One is basically an information kiosk for day visitors and is located at the entrance immediately after the 'Sarpa Vasal' (the main gate).
The other is the main reception centre for those who have accommodation or special program booking. You will be guided by the guards at the main gate to take the route via the entry from the forest road going around the Isha Centre.
It is here at this reception centre where all the paperwork and formalities, including payments, for your stay will be done.
A two page pamphlet giving the map as well as the activities chart will also be given here.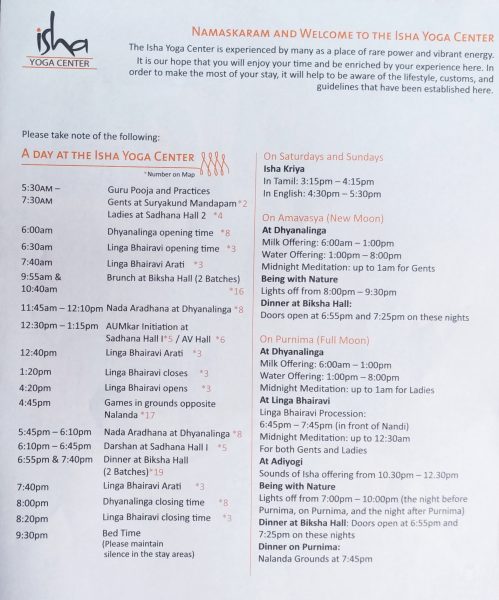 Special identity cards (depending upon your program) and wrist-bands (for those having bookings only) will also be given which will enable you to move freely in the entire campus.
Car Parking
For those coming by self driven cars, there are two parkings- one for casual day visitors and the other for those staying in the campus. They are both free of cost and are quite safe.
Volunteering for Service
If you plan to stay, you can also do it as a volunteer for a longer duration (which is free); and your stay will be arranged in the dormitories especially designed for this purpose. You will be assigned tasks based on your capacity and desire.
Other visitors staying in the booked cottages for a few days can also volunteer by giving their details on arrival at a special desk set up for this purpose.
Special/Additional Activities
Besides the regular activities there are many special activities that are planned almost on daily basis. Special prayers and programs are held on full moon and new moon days. The are regular programs of AUMkar Initiation, Isha UpYoga and Isha Kriya which are open to all. You can also witness Nada Aradhana at the Dhyanalinga temple complex twice a day.
The details of various special programs that last 4 days to a few weeks are given on their official website.
Food
For casual visitors on day visit there are many other food options like the foundation run "Peppervine Eatery" (inside the campus near the Dhyanalinga complex) which serves a large variety of delicious items at a very reasonable price.
There is also a eatery before entering the main complex gate, besides many fast food kiosks. You can also buy the Prasadam for Rs 20 at the entrance.
The major attractions for the first-time visitor are-

1. Adiyogi Shiva Statue
The 112.4 ft Adiyogi statue is a km away outside the main gate and is generally the place you should visit first.

It was conceived by Sadguru for inspiring and promoting yoga. Adiyogi means – "the first yogi", because Shiva is known for teaching yoga to seven disciples which thereafter led to the origin of yoga.

After entering the iconic "Sarpa Visal", the main entry gate adorned with etchings of snakes you will hit the information centre where you can get all the information you need for your visit.

Within 100 yards of the reception, there will be a complex where you have to deposit your footwear and then visit the following in the given order –

2. Naga Hall and Surya Kund (for men only)
Here men can do Yoga and take the holy dip in a huge pond where there is flowing water from the artificial spring and 3 Shiv lingas in the centre.
A similar Theerthakund (holy dip) is there for ladies too which is called Chandrakund and is located in the premises of the Dhyanalinga temple complex.
In order to enhance the effect of meditation, one can take a dip in the Suryakunda (for males) or Chandrakund (for females). These Theerthakund's are energy pools that are supposed to melt away your karmic blocks.

4.. Linga Bhairavi Temple

On the left of the Dhyana linga is the entrance to the Bhairavi temple which is across a 150 yards pathway that passes near an artistic monolithic Trimurti Panel that depicts the three qualities essential for inner growth of humans- Rudra, Hara and Sadashiva.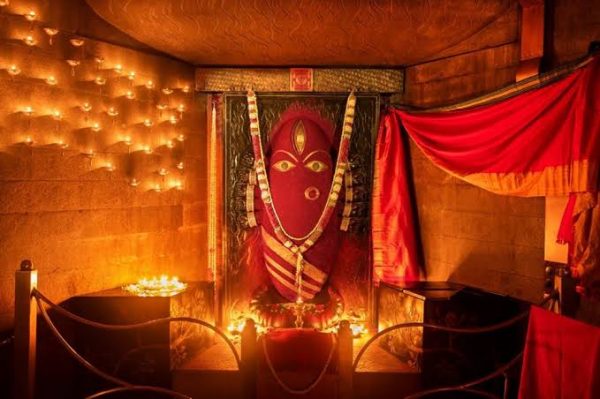 The Linga Bhairavi Temple is at the left corner and you can also watch the audio visual in multiple languages to know its significance and procedure for the prayers (Aarti).
Linda Bhairvi represents the divine in its feminine manifestation and is focused on enhancing the material well-being and health of an individual. The temple is open from 6:30 am to 01:20 pm and 4:20 pm to 8:20 pm, seven days a week.

The Aarti which is a ceremony of worship offered to the Devi thrice a day at 7:40 am, 12:40 pm and 7:40 pm. It is of approximately fifteen minutes duration and is open to the public. This is something that you should not miss.

Thereafter, as you move out in a clockwise manner you will come across the ladies holy bath that is the chandrakund. Incidentally, in the bathing areas is the Suryakund and Shandrakund you have to wear the clothes given by them to enter the polls, and it would cost to Rs 20. There are special halls where you can deposit your valuables free of cost.
Isha Foundation Special programs
---
1. Inner Engineering Workshop – This is a 3-7 day intensive program, offered either in a traditional class setting or online. It provides the opportunity to re-engineer oneself through the inner science of yoga. Guided meditations and the Shambhavi –Mahamudra practice

2. Hatha Yoga This is 21 day residential program

3. Yoga for children – 3 days program

4. Uyir Nokkam – this is a simple yet powerful yogic practice designed by Sadhguru to make our body, mind, emotions, energies, and the five elements within us, function for our wellbeing.

The format of the program is 2 hours a day for 3 days. The program is conducted by trained teachers under the guidance of Sadhguru.
Advanced Programs of Isha foundation
Shoonya Intensive – Conducted as a 4-day residential program.

Bhava Spandana – An Explosion of Blissfulness, this is a 4-day advanced meditation program to provide the opportunity to go beyond the limitations of body and mind and experience higher levels of consciousness. It is offered only to those who have been initiated into Shambhavi Mahamudra.

Samyama – This is a residential program offered by Sadhguru. Participants spend 7 days in complete silence with long hours of intense meditation.

Hatha yoga teacher training certificate program – This is 21 week intensive in-house program.
Besides these, there are also many other programs conducted from time to time to coincide with occasions generally in line with Hindu ritualistic practices, the information is given regularly at the official website of the Isha Foundation.
Similar activities are conducted in other Isha foundation centres round the world too, so you can attend the same after checking out at THIS SITE.

For more information or clarification, feel free to write to me.